Elad Schechter on Between Heaven and Earth: Locally by Iris Erez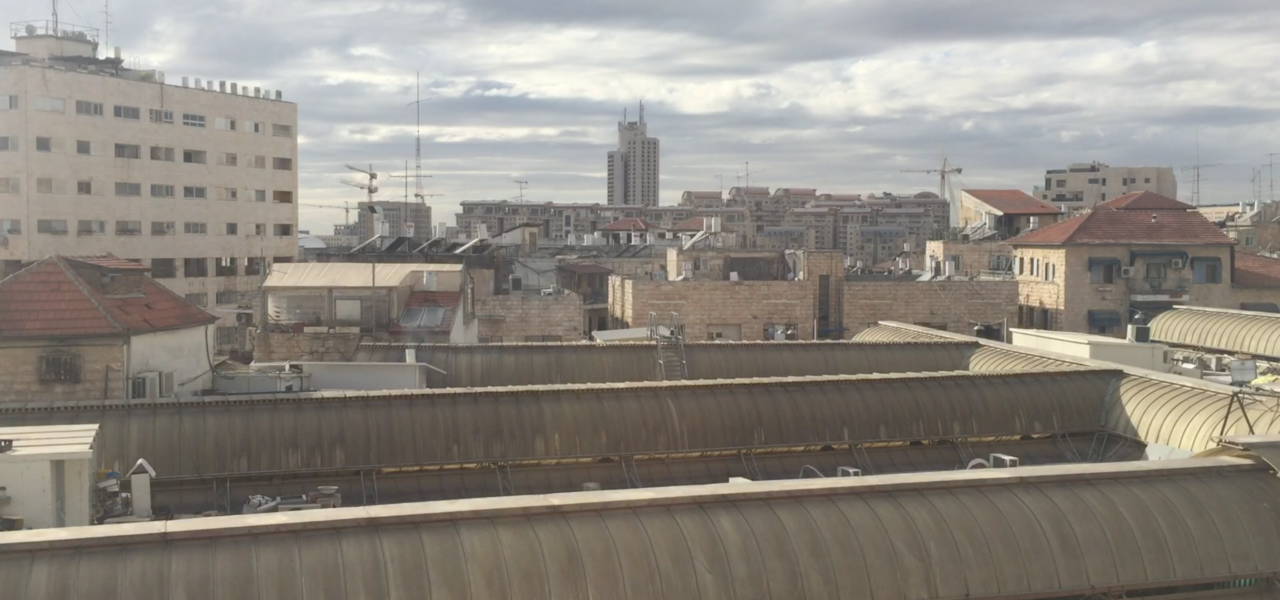 Elad: Hi Iris.
Iris: Hi.
Elad: I saw your show on Wednesday night and I wanted you to tell us what happened before the performance.
Iris: Well, on Wednesday there was a fire in Nataf. It started in the morning and I had actually planned to have a restful morning and a sleep before the show. I came home very late the night before. Things got turned upside down. There was a lot of smoke and we waited for them to tell us what to do. It turned out that the road to Nataf was blocked and there was a lot of stress about what to do. What to do with the kids. In all this stress, we were waiting for someone to maybe come with 4 by 4's to evacuate us. And the cops came and told us, 'okay, the road is open now. This is the moment, leave now before the fire takes over.' We took the kids and ran and we went up. The second before we left Nataf I said my partner, 'Ok, take the kids outside, I'm going to get the set and the costume for my show that night.' I couldn't believe I was doing it. I ran the whole way down; we live at the lowest point of the town. As the cops were commanding everyone to evacuate the buildings, I went to bring the set. I thought I was crazy. In the middle I met the teachers from my son's school, they gave me a ride for part of the way. They told me, 'we're going with you, we'll help you.' And I told them, 'no! You're not taking part in my insanity. You're leaving Nataf now and saving yourselves.' And they left and I managed to do it all by myself and I managed to leave. I got out of Nataf, I was very shaken up. The whole day, until the show, I didn't know if I would perform. It seemed like one of the strangest things to do. But then I decided that I was going to get myself together and perform. And in particular, this piece speaks about Nataf I guess because of that I felt this need to hold on to it so that nothing would happen there. I performed and it was very strange to perform there. I think that for part of the show I was in a dissociative state, I was there and I wasn't there, but slowly, slowly I got into it. A bit like how you behave in an emergency. Yes. Afterwards it was much more difficult to do it.
Elad: In the show, there is a part where you talk about wild boar and about the conflict about what to do with the wild boar that roam through Nataf. I also lived in the north, in Kibbutz Yechiam. One day when I came home, I drove and I drove fast, not really paying attention. By accident I arrived as a mother and 8 or 9 small pigs were crossing the street. When I got there, I stopped a meter away from the mother and of course I couldn't get out, she looked at me in shock. After about 20 seconds of her looking at me and checked if her children were okay, she continued to cross the street and I went on. It was a very powerful experience of…
Iris: A meeting with nature.
Elad: A meeting with nature.
Iris: I think it's very uncomfortable, in any case, pigs are controversial animals. I heard that the pigs are returning to Nataf. It's amazing because in the piece I talk through the other levels of the space that are more political. And suddenly it became about that, about animals, about preservation about what happens to them. How they ran away and where they ran to, if they managed to get out. The relation to nature became very urgent in the actual thing.
Elad: And in relation to what you experienced with your children, how to save them.
Iris: Yes. Exactly. It's very exposed, this meeting with them. The meeting with the animal side of nature as well as the destructive side of nature.
If people are involved in it or not doesn't really matter. If people are involved, people within the town are involved in it in a very complex and engaged way. It makes the situation more complicated.
Elad: Thank you very much.
Iris: You're welcome.
---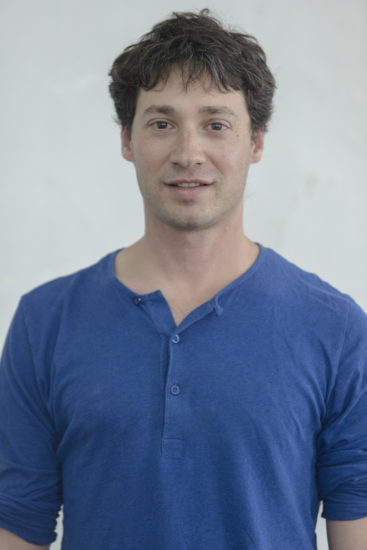 Elad Schechter is a Jerusalem native dancer and choreographer. A graduate of the High School for the Arts in Jerusalem, he served in the IDF Theatre department and danced in many professional companies, such as 'Charleroi Danses, Brussels', 'Vertigo Dance Company' ׳Kibbutz Contemporary Dance Company' and more. In 2012 he founded the c.a.t.a.m.o.n Dance Group in Jerusalem. Schechter has been creating works since 2009. He is the recipient of the silver medal at the international choreography competition of Beijing in July 2011. Alongside his artistic work, Elad is developing Jerusalem based projects that aims to develop dance, art and culture scene in the city. Elad founded 'From Jaffa to Agripas' – Dance in Machne Yehuda market, curated and developed 'Alliance House' – A home for creative communities, for 'New-Spirit' organization and curating 'Dance in Masie' – The complete dance series in Jerusalem at 'Beit Masie' Theater, since 2012.