Dance in a Digital Age by Ana Harmon
Google search "media influence on art" and you will primarily find articles on how Instagram has transformed the visual art market and how incredible it is that a smalltown girl in Idaho can virtually visit the Louvre. Few articles cover a question that I found hard to ignore over the past few days at Machol Shalem's International Dance Week in Jerusalem: how does mass media and new technology influence our own creation processes and conceptions, specifically dance-making?
Israelis Dana Sapir and Rotem Viner Tchaikovsky buoyantly battled to a text titled "King Arthur," about violence and Vikings; French MASH competition winner Thibaut Eiferman work "HHH" featured an interview by 'punk poet laureate,' Patti Smith; Austrian trio "BAUHAUS" saw a scantily clad woman rap with Atlanta, Georgia's artist Future's "Covered N Money" while kicking back in a kiddie pool; and Ronen Izhaki's religious men's troupe, Kaet, actually requested a woman's phone from the audience mid-performance to capture a fairly insignificant moment. Many of these artists' references and inspirations seem to be located far from their homes and traditions, I would argue, as a result of our increasingly accessible and compulsive lives online.
This creational behavior might be a result of artists' unconscious understanding of today's most valuable commodity: our attention. As daily digital users, we constantly jump from bit to bit, often traversing continents with a click. We are proud to find hidden gems located far from home, and often "share," making them our own. Also, today, artistic creation is inherently subjected to being photographed and/or videoed, and the success of a work demands social media sharing. To achieve this result, artists might feel inclined to include 'made-for-Instagram' moments: layer upon layer of lighting, music, costume, and explosive props: keep your valuable eyes on us, they seem to be saying: follow us, snapchat us, story us somewhere.
I was unable to trace references for the two works which moved me most so far this week: "Work of Flesh—Soundtrack for Five Slammed Bodies" by Annabelle Dvir and "The Station," by Ferenc Fehér. Neither of these works featured the best technicians, flashy switch kicks, or appropriated soundtracks; rather grounded bodies dug deeply into themselves. Impulses for movement seemed to be drawn from some elusive, internal place which I was glad to know I would never find in a Google search.
---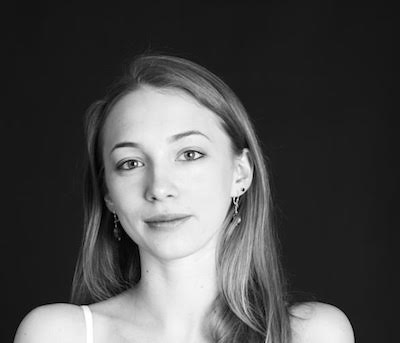 Ana Harmon
is an arts advocate and dancer. Born and bred in Boston, MA, she trained for 12 years with Boston Ballet before joining Ballet Austin II in 2008. After completing MASA Dance Journey on Kibbutz Ga'aton in 2010, she joined Kamea Dance Company in Beer Sheva. She has attended workshops at  Nederlands Dans Theater, National Ballet of Canada, San Francisco Ballet, Houston Ballet, and Suzanne Farrell's Exploring Ballet. Ana received a BA in Liberal Arts from Tel Aviv University in 2016. From 2016-2018 she worked for Batsheva Dance Company's International Development department. She is currently pursuing a Gaga teacher certification course and working for Gaga International.