Lift Me Up: Ori Lenkinski on Shira Eviatar's Rising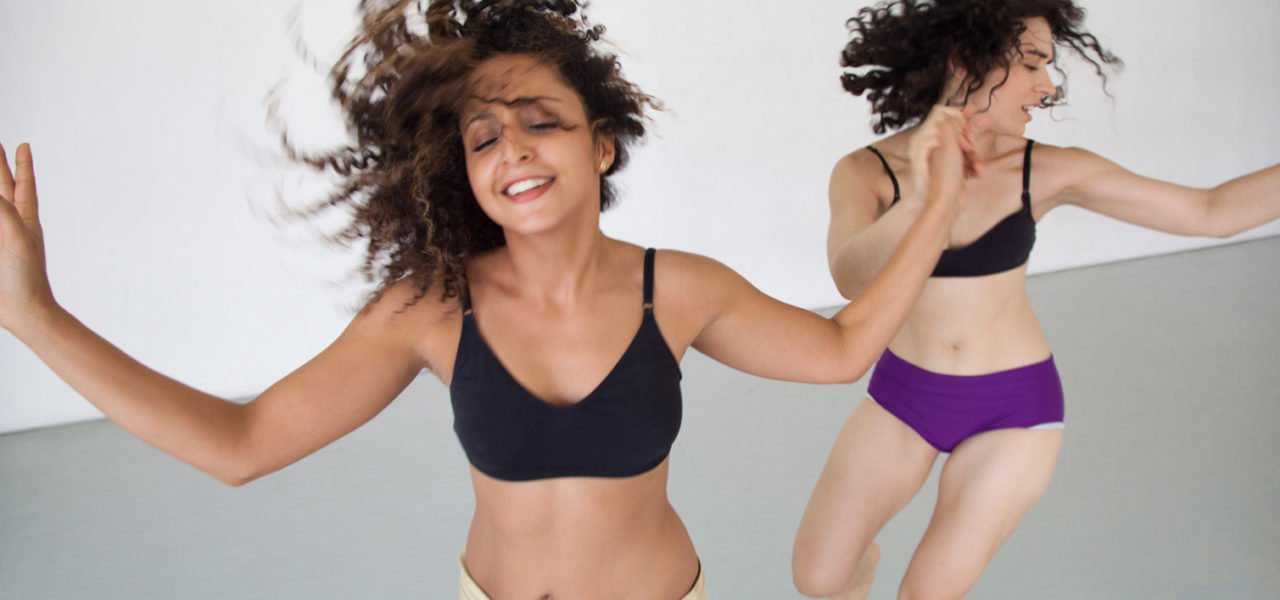 It's dark, I'm sweaty, music is blaring, people everywhere. This is real dancing, not class, not trying to impress, not professional, nothing. Just real, unencumbered, uninhibited, free-as-a-bird dancing. (For years I will try to capture this exact feeling in the studio. An ellusive quality of dancing not as a dancer but as a person on the loose.) I glance over at my friend and she gives me that look. That "YEAH" look. That look that we're in it together, that she's vibing on me and and I'm vibing on her. That look that is one of the most precious memories of my young adulthood. That fluid moment where fun is shared.
Sitting in the second row in Studio Varda last night watching Shira Eviatar and Anat Amrani in Rising, I suddenly missed my girl posse. My gang. The women who I grew up with, partied with, learned to dance at clubs with. I missed those eyes, that abandon of knowing that someone close to you is close by.
Shira, on one knee with a brazen hand wagging in the air and Anat, with one foot perched on Shira's thigh. Black underwear don't care. They exchange a glance and it's that. That look that sums up all the joy and comfort and zest of friendship between women. I didn't even know I missed it until I saw them do it.
Rising is not the fanciest or most virtuosic piece, it doesn't have dazzling costumes, props or music. It doesn't want to impress you, shake you, manipulate you. It isn't trying to be something. It simply is. And what it is is so much.
It is a beautiful work, a joyous, happy, smile-inducing dance piece the likes of which I haven't seen for a long, long time. I can't remember the last time I saw an audience clap in the middle of a contemporary piece, let alone smile and forget about hollering. And sitting there, in the round, taking in the erupting "kululu's" of my neighbors, I thought about how fun dance is, how simple a pleasure it is to watch dance, how pure a form it is.
Rising was performed as part of Latitude: Batsheva Hosts on February 12 together with Ofir Yudilevich's Gravitas.