Between Heaven, Earth and Family: Miki Marin about Or Marin
בין שמיים, ארץ ומשפחה: מיקי מרין על אור מרין
*english follows
מתי הייתה הפעם הראשונה שראית את אור רוקדת? איך זה היה נראה?
רקדה מגיל מאד צעיר כמעט תינוקת, רקדה בגני שעשועים על המתקנים. ובכל הזדמנות מגיל שנתיים עשתה ארבסק ותנועות ריקוד אחרות שיצרה. מיום היולדה הייתה בסלקל בסטודיו. מהרגע שהתחילה ללכת הייתה נעמדת עם התלמידות ורוקדת… בשבילי זאת הייתה התרגשות עצומה.
יש עוד בני משפחה שרוקדים או רקדו פעם?
אני רקדתי מגיל 3 ועד 18 באופן מסודר ומקצועי. החלום היה להיות רקדנית אבל לבסוף הפכתי לשחקנית.
מתי נחשפת לראשונה ליצירות של אור?
לראשונה בבי״ס תלמה ילין בעבודת גמר. הקשר בין שגעון ליצירה. עומק המחקר הימם אותי ומאז ועד היום לא מפסיקה ליצור במקוריות ואומץ בלתי רגילים.
איך את מרגישה כשאת צופה בהופעות שלה?
כמו חלום שמתגשם ובעצם מעל ומעבר לזה. לא זכיתי להעמקה יופי ויכולת שיש לה. ובעיקר כשסתיו ואור משתפות פעולה זה מעבר לחלומות.
האם את מרגישה שהעבודות שלה משקפות את מי שהיא בחיים היומיומיים?
אין לי ספק שאור על הבמה ואור בחיים הם אחד. האמת הבלתי מתפשרת, עומק, המחקר, ההתעקשות על הפרטים, ההתמסרות הטוטאלית ליצירה זאת המהות שלה.
האם הופתעת פעם ממשהו שראית על הבמה?
מופתעת ומתרגשת כל פעם מחדש.
תספרי לנו משהו שאנחנו לא יודעים על אור.
אור היא אם השנה! לשתי בנות מדהימות. סבלנית, אוהבת ומחנכת, אופה עוגות, תופרת תחפושות לפורים.
מה הוא הדבר הכי מאתגר בללוות את אור בקריירה שלה?
הכי מתסכל חוסר התמיכה והתקציבים והיחס לאמנות ואמנים בארץ.
מה הדבר הכי מרגש בזה?
(ביחד עם זאביק מרין, שענה על סתיו מרין) זכות גדולה והתרגשות עצומה לחלוק את הבמה עם הבנות המדהימות שלנו בפסטיבל בין שמיים לארץ.
מיקי מרין היא אמא של אור וסתיו מרין. משפחת מרין תופיע יחד בערב נעילה של פסטיבל בין שמיים לארץ ב9 לנובמבר.
ככה קיבלנו את התשובות של זאביק ומיקי מרין על הבנות שלהם.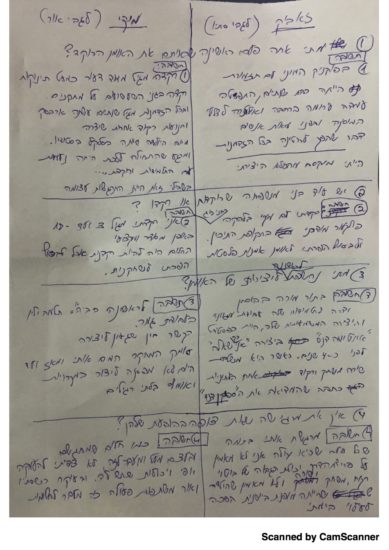 This is how we received Miki and Zevik Marin's answers about their daughters.
When was the first time you saw Or dancing? What did it look like?
She danced from a very young age, almost from infancy, in parks on the jungle gyms. From the age of two, at every chance, she would do arabesques or other dance moves that she created. From the day she was born she was in the studio in her carseat. And from the moment she could walk she would stand up next to our students and dance… that was always very moving.
Are there others in the family who have danced/dance now?
I danced from age 3 to age 18 in a consistent and professional setting. My dream was to be a dancer but in the end I became an actress.
At what point did you become aware of the Or's creations?
The first time was when she was a student at Thelma Yelin, in her final project. It was a combination of insanity and creation. She conducted a very in depth research process, which amazed me and since then until today she hasn't stopped creating with extraordinary originality and bravery.
How do you feel about attending her shows?
It's like a dream coming true and actually even more than that. I was not blessed with the depth, beauty and ability that she has. And especially when Stav and Or collaborate, it's beyond dreams.
Do you feel that Or's works reflect who she is in real life or in your eyes?
There is no doubt in my mind that Or on stage and Or in real life are one. Her uncompromising truth, depth, research, attention to detail, complete commitment to the creation, that is her essence.
Have you ever been surprised by what you saw on stage?
I am surprised and moved each time anew.
Tell us something we don't know about Or.
Or is MOM OF THE YEAR! Of two amazing girls. She is patient, loving and enriching, she bakes cakes, sews Purim costumes…
What has been the hardest or most challenging thing about standing alongside Or throughout her career?
The most frustrating thing is seeing the lack of support and funding and the treatment of artists in Israel.
What has been the most wonderful thing about it?
(Together with Zevik Marin, who wrote about Stav) It is a huge honor and privilege to share the stage with our wonderful daughters in the Between Heaven and Earth Festival.
Miki Marin is Or and Stav Marin's mother. The Marin family will perform in the closing evening of the Between Heaven and Earth Festival on November 9.