Omer Uziel on Curtain Up: Always is Here by Adi Boutrous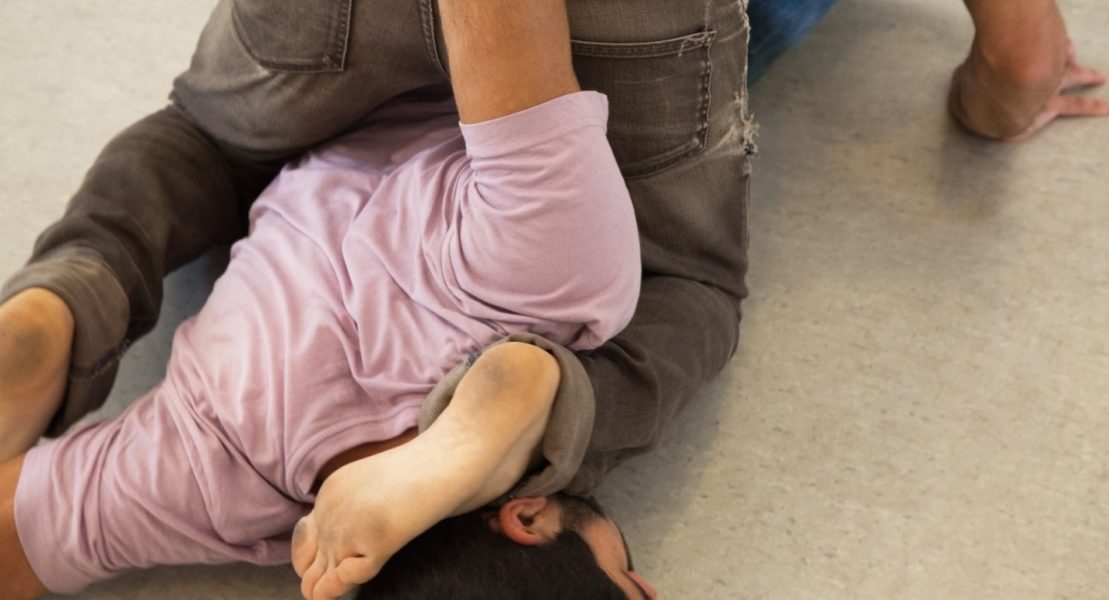 english follows*   עדי בוטרוס- תמיד זה כאן
שני גברים עומדים על במה, שני גברים עומדים על במה, ונופלים. פיזיות ציורית, מגדירה חלל, זמן, עמידה על הראש כאקט כוראוגפרי, כאקט פוליטי, כאקט תרפויתי, זזים, קופצים, מרימים, לבד וביחד, נפתחים לחלל, נפתחים אחד לשני, מוצאים נקודות משען אינסופיות פיזיות ומטאפיזיות על הלינולאום, על אחד השני, על עצמם, בחלל.  המרחב הוא קופסא, הגוף הוא פיזי והנעים הם רקדנים. המרחב הוא סוזן דלל, המרחב הוא פסטיבל ישראל הרמת מסך, המרחב הוא תל אביב, מדינת ישראל. הזמן הוא 21:10 , הזמן הוא אינסופי הוא ממשיך ונמתח ומתיש ומפעים. הרקדנים הם עדי בוטרוס ואבשלום לטוכה, בני 20 פלוס, ישראלים, ערבי ויהודי, רקדנים פיזיים משוכללים שלא מסכימים לדבר (ביצירה הזו) על רגשות ועל פוליטיקה. אבל הפוליטקיה היא כאן, נוכחת בגוף שלנו הפיזי שהרגשי צף מעליו אם רוצה או לא רוצה.
ההתייחסות היא פוליטית 
ההתעלמות היא פוליטית
הסימטריה היא פוליטית
היוניסון הוא פוליטי
הסולו הוא פוליטי
הנשיות הגברית  היא פוליטית
הגבריות הגברית היא פוליטית
ההומו הארוטי הוא פוליטי 
הקונטקט הוא פוליטי 
לסחוב משהוא זה פוליטי
אגן לראש זה פוליטי 
מחוות זה פוליטי 
מודעות וחוסר מודעות היא פוליטית 
ביוגרפיה היא פוליטית
מוזיקה היא פוליטית 
ג׳ינס זה פוליטי 
הרמת מסך זה פוליטי 
סוזן דלל זה פוליטי 
משרד התרבות זה פוליטי 
אהבה היא פוליטית 
כוראוגרף זה פוליטי 
רקדן זה פוליטי 
תאריך ההופעה הוא פוליטי 
הפוליטקלי קורקט הוא פוליטי 
אסטטיקה היא פוליטית 
הרגש והחוויה הם לא פוליטים
Adi Boutrous- Always is Here
Two men stand on the stage, two men stand on the stage, and fall. Physicality, shapes, definition of space, time, a headstand as a choreographic act, as a political act, as a therapeutic act, moving, jumping, lifting, alone and together, opening out into the space, opening to one another, finding endless physical and metaphysical resting points on the linoleum, on one another, on themselves, in space. The arena is a box, the body is physical and the movers are dancers. The arena is Suzanne Dellal, the arena is the Israel Festival, Curtain Up, the arena is Tel Aviv, the state of Israel. The time is 21:10, the time is endless, it continues and is stretched, exhausts, pulsates. The dancers are Adi Boutrous and Avshalom Latoucha, 20-somethings, Israelis, an Arab and a Jew, physically advanced dancers who do not agree to speak (in this creation) of emotions and of politics. But politics are here, present in our bodies physically when emotions surface whether we like it or not.
Relation is political
To ignore is political
The symmetry is political
The unison is political
The solo is political
The feminine masculinity is political
The masculine femininity is political
The homoeroticism is political
The contact is political
To carry something is political
Pelvis to head is political
Gestures are political
Awareness and lack of awareness are political
Biography is political
Music is political
Jeans are political
Curtain Up is political
Suzanne Dellal is political
The Ministry of Culture is political
Love is political
Dancer is political
The performance date is political
Political correctness is political
Aesthetics are political
The feeling and experience are not political
---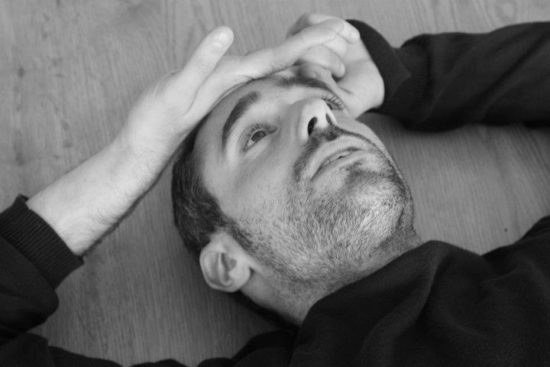 Omer Uziel was raised in Kiryat Haim, served as a parachuting instructor in the IDF, studied in the Nissan Nativ Acting Studio and graduated with honors from the Academic College of Tel Aviv-Yaffo's undergraduate program. He studied in the professional training program of DeDe Dance Company, participated in the Kelim Choreography Center's Two-Year Program. During this time, Omer was an active part of the Ministry of Culture and Sport's "Dancer in the Community" initiative, in which he taught dance lessons to the elderly at the Acco Elderly Center. He has created works for various festivals including Shades of Dance, Intimadance, Composer-Choreographer and Arena Dance Festival. He has danced for numerous independent choreographers such as Anat Danieli, Efrat Rubin, Maya Levy, Or Marin and Oran Nahum, Uri Shafir, Anat Katz and Erez Maayan, Maya Brinner, Yuval Goldshtein, Nima Yaacobi, DeDe Dance-Amit Goldenberg and Yaara Dolev and Sally Ann Friedland. Omer has taught dance in Kfar Blum, Kadima and Tel Mond. He is currently involved in two new projects that will premier this summer, teaches at the Elderly Day Center in the Yemenite Quarter and is a therapist in the Ilan Lev Method.