Nobody Puts Ohad in the Corner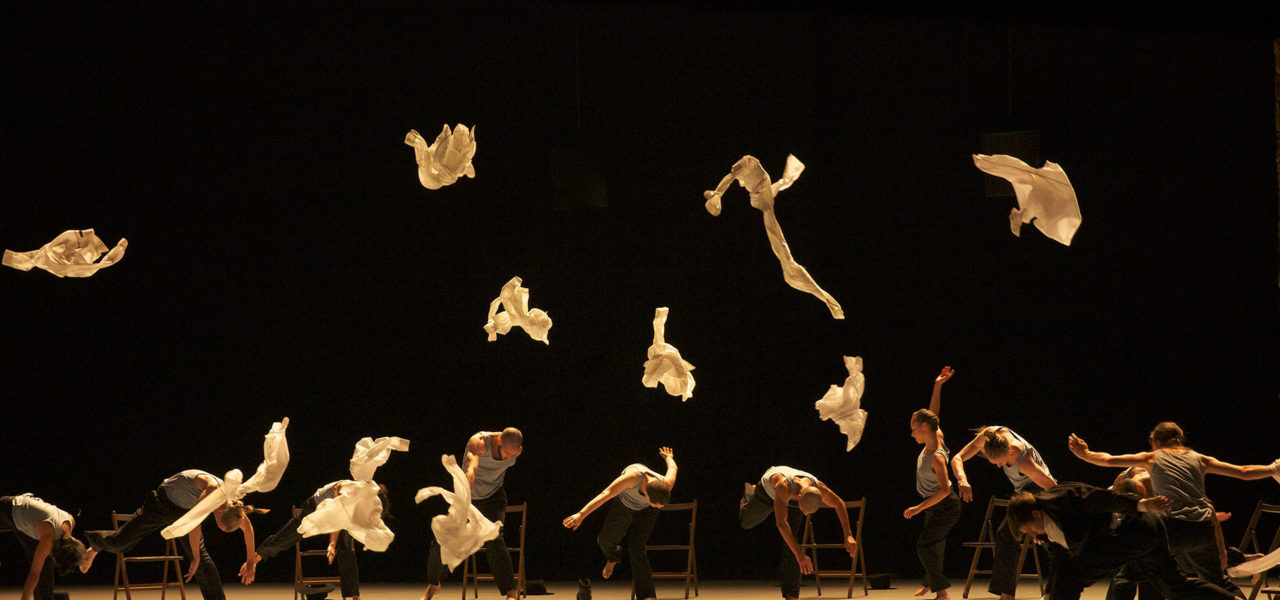 Last week, at the Country Music Awards, Kelsea Ballerini performed Missing Me More in front of millions of viewers both live and at home. Behind her, dancers clad in black slacks and white tops threw themselves off of folding wooden chairs. Her performance was applauded, the choreography called "show-stealing" and that is exactly what it was. But not in the sense that critics meant. It was literally a stolen show and, sitting at home, phone in hand watching a recording of this performance, I felt pissed.
Ballerini's choreographers Nick Florez and R.J. Durell knowingly ripped the most iconic dance piece in Israeli dance history. Echad Mi Yodea by Ohad Naharin, originally part of Kyr then Minus 16 and later part of the widely performed montage Decadance, is a signpost of what Israeli dance is all about. It has been in the repertoire of scores of companies and has been performed consistently since its premiere in 1990.
That piece defined a time, carved out an aesthetic that has since colonized much of the international contemporary dance scene, became a marker against which everything that came after it was compared. It is impossible to impart the impact that Kyr, specifically Echad Mi Yodea had and continue to have on Israeli dance.
Batsheva Dance Company, Naharin's home troupe, responded beautifully. A Facebook post on the company's site read:
"Over the past few days, we have received many messages from friends about the extraordinary similarity between Kelsea Ballerini's CMA performance and Ohad Naharin's "Echad Mi Yodea".
Come watch the real thing: "Decadance" by Ohad Naharin in Tel Aviv >> today, tomorrow, December 15th and 16th. A tour to France begins on November 29th. For details: http://bit.ly/Decadance_en"

The company and Naharin are not threatened by this plagiarism in the least. They may even find it slightly amusing. If anything, the discussion offers a great opportunity to plug Batsheva performances.
So, no biggie, right?
But to me, it feels big.
It's big because this piece really means something to me. It means something to a lot of us, and when I say "us" I mean Israeli dancers, dancers around the world, dance lovers and audience members who have seen and been moved by Echad Mi Yodea.
While I have gotten so much out of my dance career, so much love and life, I have not become rich or famous, I do not own a home or drive a great car. My life in dance could never have been about money or any other retribution. It has been about love. Pieces like Echad Mi Yodea are the fuel that made the love fire ignite. Sitting in the audience watching Oyster, Gardenia, Mamootot and a handful of others, mouth dry, heart racing and wishing I was on stage, I was privy to flickering instances that made all the rest possible, tolerable. The waitressing, the no's, the crappy-to-no-pay, the humiliating comprises and above all, the doubt.
Those ionically charged moments when an artist could unfold for me why I love dance by using the medium so masterfully that it took my breath away were indescribable catalysts that allowed me to continue pursuing dance in spite of so many hurdles.
To see Echad Mi Yodea which is, in my eyes, a polished, perfect and glorious jewel shoved behind a singer filled me with contempt. Echad Mi Yodea is not some backdrop, it is not some doily or cute planter to decorate something else with. It is content, form, meaning, beauty, pain, love, all wrapped into one. Exploiting something so true to make a singer look cute cheapens what we're doing and yes, maybe, fighting for.
It takes an incredible moment in dance history and reduces it to décor.
Ori J. Lenkinski