Libby Lenkinski on Gaga, Human Rights and Gaga for Human Rights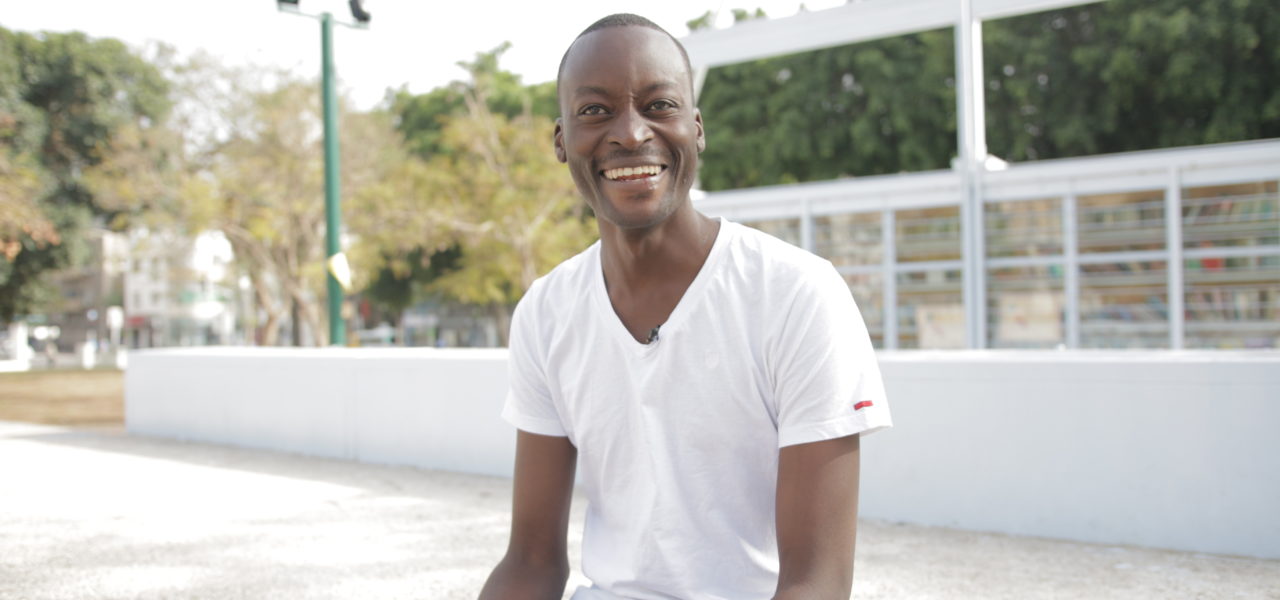 I'm slowing down. I'm starting to catch my breath. I wipe a bead of sweat from my forehead, while still jogging lightly in place and tapping my chest. Ohad Naharin, the Artistic Director of Batsheva Dance Company is standing on a platform in the middle of a warehouse in Tel Aviv. He says into his mic, "you are starting to slow down. You are catching your breath. You may be sweating, you may be a bit hungry. Your heart is still pounding. This is the feeling of being human – and no matter what divides us, these things, these human things. They connect us all. And that is why we support human rights – because we are all human. Thank you." That is how Gaga for Human Rights, a mega-dance class to benefit the Association for Civil Rights in Israel ended.
That feeling – and the fact of being human before all else is the driving force behind progressives around the world – and in Israel – during our struggle on behalf of other humans who seek refuge and asylum on our shores.
The Israeli government has said it will deport 37,000 people who came to Israel seeking refuge and asylum from Eritrea and Sudan. The government plans to fly them to Rwanda and Uganda – far from where they came from, and where they face uncertain danger and possible death.
For many years, the names of these places – and the people from them – didn't mean much to me. I didn't know anyone from any of these countries, though I sometimes saw people who came from Sudan and Eritrea by the bus station in Tel Aviv.
And then I met Mutasim Ali. Mutasim came to Israel seeking refuge from Darfur. It took him boat journeys, jeep rides through the desert, and a harrowing walk across the Israeli-Egyptian border to get there. He has lived in Israel for over eight years. He was persecuted by the Sudanese regime for being a student activist and organizer in Khartoum, and from the moment he set foot in Israel, he continued his leadership as an organizer among other people seeking refuge and asylum. He is tall and slim, with luminous dark skin and the brightest eyes and smile I have ever seen.
And when I met Mutasim and heard his story, I saw the rootlessness and determination of my own family's story reflected back. Only one generation of migration separates Mutasim and me. My father claims he can remember the boat ride from Poland to Canada. He says it's why he doesn't like sailing. My sister and I often turn to each other and say "thank God we were born where we were born – and when we were born," understanding that our freedom is a matter of luck and the resilience of our ancestors who managed to survive, just one generation ago.
Last summer, when Mutasim became the first person seeking refuge from Darfur to be granted refugee status in Israel, we invited him to attend our annual New Israel Fund dinner in San Francisco and receive a prize for his exceptional work and leadership. When he took the stage and told his story, a wave of rapt silence washed over the room. Five hundred people's hearts were pounding, tears of empathy and inspiration forming at the corners of our eyes.
We all saw something of ourselves in his story, but while our families mostly benefitted from governments of other nations opening their doors, the many families and individuals from African countries who are seeking refuge in Israel are running up against a brick wall of government indifference.
Israel – which was once held up as an open society in the Middle East – is closing up in unprecedented ways. Advocacy groups like Hotline for Migrant Workers and Refugees, Association for Civil Rights in Israel and others have been using the legal and legislative systems to advocate for the rights of refugees for more than a decade. They have made great strides and have made thousands of lives better. But in today's populist political environment, there's only so far those efforts can go. Legislative channels are quickly closing as the government moves closer to mass deportations.
Those channels closing has not meant inaction. It has meant direct action.
Government can and should be a powerful force, but it isn't the only one, and when it fails or refuses to listen to the people, the people find other ways. Israelis are taking action to stop the deportations and save lives and in more direct ways than I can remember. This week, online campaigners at Zazim-Community Action, a Moveon.org-style group that I helped incubate at NIF, called on the union of airline workers to refuse to carry out the deportations. More than 10,000 Israelis signed on to the call. Following the letter, 137 pilots and other airline workers published an advertisement in an Israeli newspaper declaring that they would refuse to carry out deportations.
Rabbi Susan Silverman, a prominent Reform rabbi in Jerusalem (and recent guest on her sister Sarah's talk show) called on Israeli rabbis to take people seeking asylum into their homes. She calls it the "Anne Frank" project. Holocaust survivors have called on Israelis to provide shelter too. Doctors have made their case, mental health professionals, lawyers, teachers, film producers, and academics. There's an initiative of the kibbutz movement and alumni of its youth movement Hashomer Hatzair to offer residence in kibbutzim to people facing deportation. And the list keeps growing. When the populist government is no longer listening or acting, we are stepping around them.
It is all of us who are sitting on the other side of the table from Mutasim Ali – it is all of our stories reflected in his own. It is all of our breath slowing down, all of our beads of sweat beginning to drip, all of our tears forming in the corners of our eyes. It is all of our hearts beating as humans in our own bodies and for each other. If the government does not see this, does not recognize us jogging lightly in place, then we use those human bodies of ours to defend others. We put our bodies in front of theirs and together we become free.
---
Libby Lenkinski is the Vice President for Public Engagement at the New Israel Fund, where she leads all aspects of NIF's public efforts in the United States – including communications, digital, programs, events, leadership, community partnerships and engagement, New Generations and our fellowships. Prior to joining NIF, Libby lived and worked in the Israeli non-profit field for almost a decade. There she worked as Director of International Relations at the Association for Civil Rights in Israel (ACRI) and as a strategy consultant for human rights organizations like Yesh Din and Physicians for Human Rights, for documentary films including Budrus and The Law in These Parts, new media initiatives like +972Magazine, and for progressive campaigns. She is a founding member of ZAZIM-Community Action and The Whistle. Currently, Libby serves on the board of Comet-ME, Hashomer Hatzair North America and is a NY co-chair for the Reboot Network. Libby is based in Brooklyn and travels to Israel-Palestine frequently.