Between Heaven, Earth and Family: Zevik Marin about Stav Marin
בין שמיים, ארץ ומשפחה: זאביק מרין על סתיו מרין
*english follows
מתי הייתה הפעם הראשונה שראית את סתיו רוקדת? איך זה היה נראה?
בפיקניק המוני עם תזמורת. היא הייתה כבת שנתיים, התפשטה, עמדה בעירום ברחבה ואילתרה לצלילי המוסיקה ובפני מאות אנשים, דבר שהפך לרוטינה בכל הזדמנות. הייתי מוקסם מהפלא היצירתי.
יש עוד בני משפחה שרוקדים או רקדו פעם?
רקדתי עם מיקי כבני זוג בלהקת פולקלור מודרני בתקופת התיכון ולבסוף הפכתי לאומן אמנות פלסטית.
מתי נחשפת לראשונה ליצירות של סתיו?
בתור מורה בבוסטון, סתיו יצרה לתלמידות שלה עבודות מגווונות והיצירה המשמעותית שלה הייתה בפסטיבל ״אינטימאדאנס״ ביצירה ״אני רק שאלה״ לפני כ4 שנים. כאשר היא משלבת שירה, משחק וריקוד. אחת העיתונאיות כתבה שהיא המציאה את ה״ספוקן דאנס״.
איך אתה מרגיש כשאתה צופה בהופעות שלה?
מרגשת אותי בכמה שכל פעם כשהיא עולה אני לא מאמין על פריצת הדרך, יכולת של ביטוי ריקוד, משחק ושירה ולא מאמין שהילדה שהייתה מופנמת, ביישנית הפכה לעילוי בימתי.
האם אתה מרגיש שהעבודות שלה משקפות את מי שהיא בחיים היומיומיים?
האמת הפנימית שלה והשקפות עולם הם היצירה שלה. החיים הם יצירה ממושכת ובלתי מתפשרת.
האם הופתעת פעם ממשהו שראית על הבמה?
מופתע כל מופע מחדש.
תספר לנו משהו שאנחנו לא יודעים על סתיו.
סתיו, אמנית אוויר. למדה בבי״ס לקרקס בבריסטול. מקצוענית כאמנית טראפז, טיסו…
מה הוא הדבר הכי מאתגר בללוות את סתיו בקריירה שלה?
לשחרר את החבל. ולראות את ההתפתחות העצמאית בלי עזרתי.
מה הדבר הכי מרגש בזה?
(ביחד עם מיקי מרין, שענתה על אור מרין) זכות גדולה והתרגשות עצומה לחלוק את הבמה עם הבנות המדהימות שלנו בפסטיבל בין שמיים לארץ.
זאביק מרין הוא אבא של אור וסתיו מרין. משפחת מרין תופיע יחד בערב נעילה של פסטיבל בין שמיים לארץ ב9 לנובמבר.
ככה קיבלנו את התשובות של מיקי וזאביק מרין על הבנות שלהם.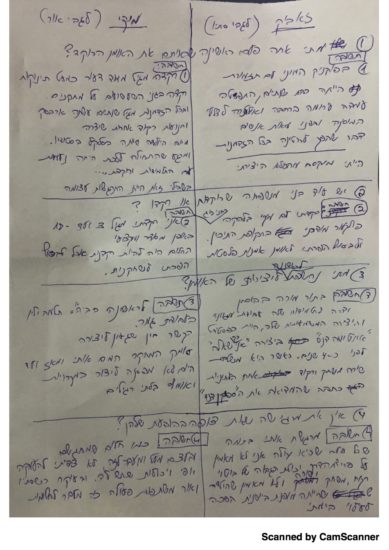 This is how we received Miki and Zevik's answers about their daughters.
When was the first time you saw Stav dancing? What did it look like?
It was at a massive picnic with an orchestra. She was about two years old, she undressed, stood naked in the middle of the dancefloor and improvised to the music in front of hundreds of people. That turned into a routine that she did at every opportunity. I was completely taken by the wonder of this creation.
Are there others in the family who have danced/dance now?
I danced with Miki as her partner in a modern folklore company in high school but, in the end, I became a visual artist.
At what point did you become aware of Stav's creations?
As a teacher at the Bustan, she created works for her students. Her most significant creation was in the Intimadance Festival, it was called I'm Just A Question and it was about four years ago. She blended together singing, acting and dance. One of the critics wrote that she invented "spoken dance".
How do you feel about attending her shows?
She moves me and I can't believe how, each time she goes on stage, she breaks boundaries, she has an amazing ability to express through dance, acting and song and I can't believe that this girl, who was so introverted and shy has become a stage genius.
Do you feel that Stav's works reflect who she is in real life or in your eyes?
Her inner truth and her point of view are her creation. Her life is an uncompromising and ongoing creation.
Have you ever been surprised by what you saw on stage?
Surprised each time all over again.
Tell us something we don't know about Stav.
Stav is an aerial artist. She studied at a circus school in Bristol and is versed in trapeze, tissue…
What has been the hardest or most challenging thing about standing alongside Stav throughout her career?
To release the reins. And to see her developing on her own, without my help.
What has been the most wonderful thing about it?
(Together with Miki, who wrote about Or) It is a huge honor and privilege to share the stage with our wonderful daughters in the Between Heaven and Earth Festival.
Zevik Marin is Or and Stav Marin's father. The Marin family will perform in the closing evening of the Between Heaven and Earth Festival on November 9.