Between Heaven, Earth and Family- Ilene Bloch-Levy about Daniella Bloch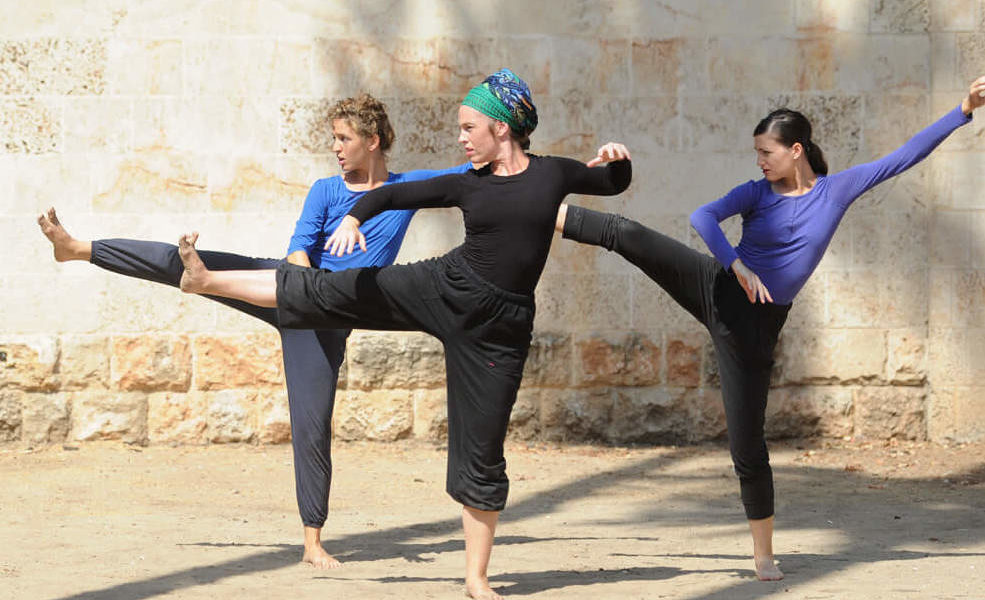 When was the first time you saw Daniella dancing? What did it look like?
I have a vision of watching Daniella dance for the first time so crystal clear in my head that it is as if it were yesterday. She was 4 years old and in a gan in Riverdale, New York where we lived until Daniella was 9 years old. The whole class was dancing to music for a Chanukah party and as 4-year olds are prone to,
they were all dancing stiffly and working very hard at keeping to the beat and following each other. Not Daniella. She stood out with her smooth, unfettered moves and oftentimes a step different than the others.
At one of the parent-teacher's meetings, the ganenet (teacher) remarked to my husband that Daniella was not musical. He clenched his teeth and asked her exactly what she thought musical meant. She remarked that Daniella changes the words of songs and the steps to their dances and movements. He responded that that was the penultimate idea of musicality and with that, I don't believe he attended another parent-teacher's conference.
Are there others in the family who have danced/dance now?
Not a soul. There are those who love to dance around, children and grandchildren, but none, not a single person in the family really dances or understands the passion behind dancing as a profession, as a calling in one's life.
At what point did you become aware of Daniella's creations?
Daniella's creation is Nehara — from its initial concept, to its inception to its management, rehearsals, performances and everything and anything that is involved. Daniella discussed her initial idea with me, and frankly, I was nervous. I wasn't sure that it could succeed on any level. First, how do you find talented young women with the drive to devote their energies to a new dance group. How do you find such women who not only have a professional background but are also religious. And, how do you find such women who will be willing to perform on stage before an audience of men and women. There seemed to be so many obstacles along the way, that I did not feel that Daniella would be able to succeed. Yet, she managed to defy
every fear that I laid out before her, and, in her usual determined way, achieve what she set out to do.
How do you feel about attending her shows?
I love attending the shows, and have brought granddaughters with me to see if anyone else will be bitten by
the Daniella dance bug.
Do you feel that Daniella's works reflect who she is in real life or in your eyes?
Nehara brings to life on the dance stage, issues that many women struggle with. Nehara's creations force us to think and find the fine line that we are willing to walk without compromising our ideals or our beliefs. I believe that what Nehara expresses on stage, are those very same struggles and battles that Daniella has had to deal with her entire life. Sometimes my mind swings back in time to Daniella' s own dance career when I brought her for her audition to the Bat Dor Dance School. I am grateful that I was a bit ignorant of what she would have to endure because I believe I would not have so readily approved of this new vector in her life. But as I saw her great love for it, as a dancer, as a teacher and today with Nehara Dance Group, dancing, performing and bringing together under one roof such extraordinary, dedicated women… I think that her mission in life is being fulfilled here and now and would not have been possible without those many years of struggling and fighting against the tide.
Have you every been surprised by what you saw on stage?
The level of professionalism has surprised me. The beauty that they bring to the stage overwhelms me. The dancers themselves touch my heart, as individuals, as professionals, as mothers, as young women… all that they are and all that they want to become.
Tell us something we don't know about Daniella.
Daniella is an open book. She shares her thoughts with all those around her. It's hard not to really grasp
what she is about. But I'll tell you one thing that you may not know…she is a wonderful daughter, mother and wife…and that is part and parcel of today's women. Accomplished in every way. They will break the barriers that have been erected over the years, and like Daniella, they will do it with passion, dedication,
commitment and grace.
What has been the hardest or most challenging thing about standing alongside her throughout her career?
Having the confidence in her to be able to withstand the uphill struggle and come out unscathed. And, having the patience with myself to ride through with her, her frustrations and disappointments. This has not been an easy journey for Daniella. If you love her, then you just must grant her a strong shoulder, a good listening ear and a heart that understands what drives her.
What has been the most wonderful thing about it?
While on the one hand, this has been a growing experience for Daniella, it has also been one for me. She
has changed me. She has changed how I look at her world, and how I would like my world to be. For that I am grateful. Eternally.
Do you have any other thoughts you would like to add?
Nehara Dance Group is revolutionary. I hope and pray that Nehara paves new avenues for other
young women who want to express their hearts and souls in dance. I hope and pray that it breaks down the barriers that have kept religious women behind in the arts and opens them up to not only dance, but other art forms as well. When they fully enter these worlds, it will be a blessed explosion.
Ilene Bloch-Levy is Daniella Bloch's mother. Daniella is the founder and director of Nehara Dance Group, which will perform in Program C of the Between Heaven and Earth Festival on November 6 at 7:30 PM.