bODY rEMIX rEWOUND – on performing the same work fourteen years later by Kimberley De Jong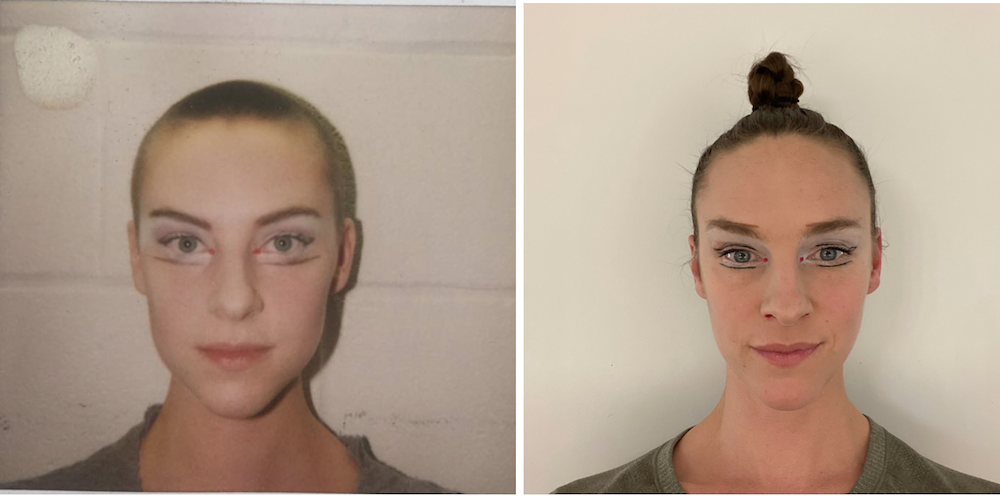 This fall, I was asked to join Compagnie Marie Chouinard for their performances in January at La Place des Arts. The five-day run of shows included the return of one of Marie's most acclaimed pieces "bODY rEMIX", originally created in 2003. As a freelance dancer, it's a rare occasion to join a permanently functioning company like this. Perhaps, in the more classical world of dance, dancers make guest appearances and soloists get to be "featured" in a ballet.
I had first started working for Compagnie Marie Chouinard in 2006, then left in 2008 to have my first baby. I returned in 2010 and left a second time in 2012 to have a second child. In total, I worked for the company as a dancer for 6 years. I also served as a rehearsal director for the company after my second child.  "bODY rEMIX" was the first piece I learned and performed for the company. I was twenty-two years old. The piece profoundly touched me and threw me on my career path that stretched out over the coming fourteen years. The opportunity to revisit such a work was an honour, to say the least.
I think the major opinion about returning to work as a dancer after maternity leave is that we become less hireable and that our bodies change for the worse. A big question employers ask is "how will these mother/dancers ever manage a tour life with children"? I understand these worries and to say I never had them would be lying. But how are we supposed to overcome certain beliefs if we believe them ourselves? Maybe it was the punk in me at twenty-five years old that said, 'I can have this baby and go back to dance just like before and I will prove to all of you who don't think it's possible, that it is!' After all, as a twenty-year-old you have the energy and conviction to change the world, if you want to. As we get older our ideas and beliefs tend to stiffen, as do our bodies. I honestly cannot say how things would be different if I didn't have kids or what kind of career I would have led. What I can talk about is the type of career I've had with kids.
First of all, when I returned to work after my first maternity leave, I remember Marie commenting on how grounded my dance had become. Our bodies are a reflection of our lives and our experiences and it makes perfect sense that after giving birth, my center of gravity would be lower. We can separate the physical from the mental but we all know that the two are inherently linked. What is manifested psychologically is physical and vice versa. The major change that took place, for me, was the dividing of my time. When I was at home, I had to be of service to my babe. I couldn't bring my workload home. I had to shut off. In turn, this mental break from worry at work was the one thing that served me most. I was able to go back to the studio the next day, renewed and ready to plunge into a new day of work. The clearing up and letting go of old tensions and personal mind fucks, of which there are so many in the studio, allowed me to make room for new energy.
Taking time off my craft enabled me to live life outside the studio. When I came back, I had more reason to dance, more life to express. Coming back to dance after leaving it for a while made me extremely happy to identify with something that was such a big part of me, this time with distance and new perspective. It rocked to return to dance because I felt like I was saying 'hi' to an old part of myself I had put on hold, while I had been so entirely devoted to caring for a newborn.
When I returned to dance as a guest for Company Marie Chouinard, I did not fill in the roles I had danced fourteen years prior. I was surrounded by new company members as well as original members, such as Carol Prieur, icon of contemporary dance and a national treasure. I wasn't playing solo guitar anymore, I was playing an accompanying percussive role. This role suited me fine. I realized the impact my experience and maturity had on the new dancers. They would ask me questions about the "original" choreography, questions about the techniques and processes I had learned during my time with the company. One of the dancers unfortunately fell sick during the run of shows and I was happy to jump into her role. I was ready for it. Backstage, I felt my duty was to encourage and feed the dancers positively. This came easily as I really was happy to be there and inspired to watch their devotion to the work.
It was interesting how my corporeal memory knew the movement, knew the music, still so well. To experience the work at a later stage in my life, having lived through events that in some ways are more meaningful than my career, gave me the proper distance to appreciate the work. I was less attached and could see the larger picture. Love is overwhelming when you don't let it breath, just like a good wine… it gets better with age. I was at once terrified to get on stage nearly naked with my "experienced" body; two kids later, four years of breastfeeding, one laparoscopic surgery and lots of stories, but also thrilled at the challenge. Now, reflecting on my moments on stage, I remember that they were as brief as lightning. One thing that stands out is how much I enjoyed myself. I came off stage with a huge grin and said, 'well that was fun'. I no longer had the fear of losing my job, or the fear of not doing something perfectly right. When I got on stage, I knew how to abandon myself more to the moment and experience joy. Maybe it is because I understand the impermanence of life a little better now. I know how to not sweat the small stuff. But those are things that maybe only age knows.
So what is my message through this article? Hire mature dancers? Give experience a voice? Revisit old work, it will do you good? The body contains all the same memories as the mind, when you let it tap into something it has done before, it will surprise you by how well it remembers. Like the saying, it's like riding a bike. So, when life throws you a challenge or you see something familiar from your past and you question whether to go back, sometimes it's worth rewinding and playing a second time.
---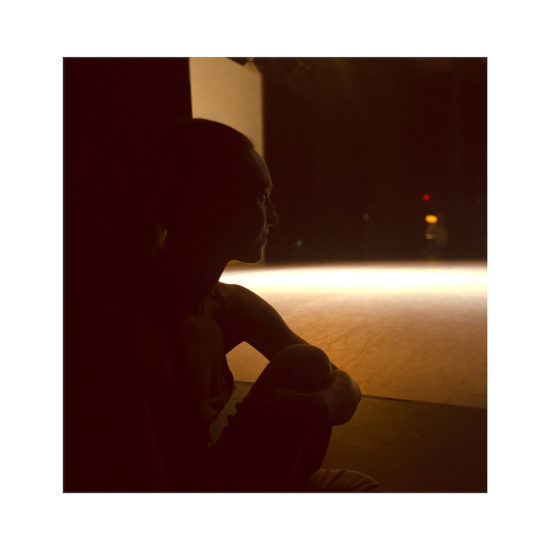 Kimberley is interested in the potential of the body; it's capacity to hold and sustain presence and generate movement and sound from a deep and visceral place. She draws on themes such as climate change, human empathy and love as source material for creation. Her collaboration with sound artist Jason Sharp led her to create Boxher, presented at Tangente Danse in March 2018, followed by experimental music festival Suoni Per Il Popolo, Montreal, Qc. They will work towards the long version of the work The Day the Wild Cried thanks to a residency at CCOV and Le Mai (Montreal) and premiere it at an exhibition on heart intelligence at the Meinblau Art Space in Berlin in March 2020. Previous works include Unravelling (2016) and CYCLe2 (2014). CYCLe2presented by Tangente Danse in 2014 thanks to a residency at Espace Marie Chouinard. Kimberley curates "5 on 5" a monthly improvisational evenings between Montreal musicians and dancers at La Sala Rossa. She recently participated as one of 5 choreographer's at this year's Banff Creative Gesture- Collective Composition Lab for Music and Dance, 2019. Kimberley was born in Australia and grew up in B.C. She went to school at Arts Umbrella, Vancouver, first starting as a tap dancer then learning from teachers such as Emily Molnar and Artemis Gordon. She's been performing professionally for 15 years starting in the Netherlands with Itzik Galili, followed by Montreal's Marie Chouinard, Frédérick Gravel, Dana Gingras with live band GY!BE, Alan Lake, Martin Messier and Caroline Laurin Beaucage. Kimberley is also a mom of two girls and is a birth and postpartum doula.