Ana Harmon on Self Ritual by Iris Erez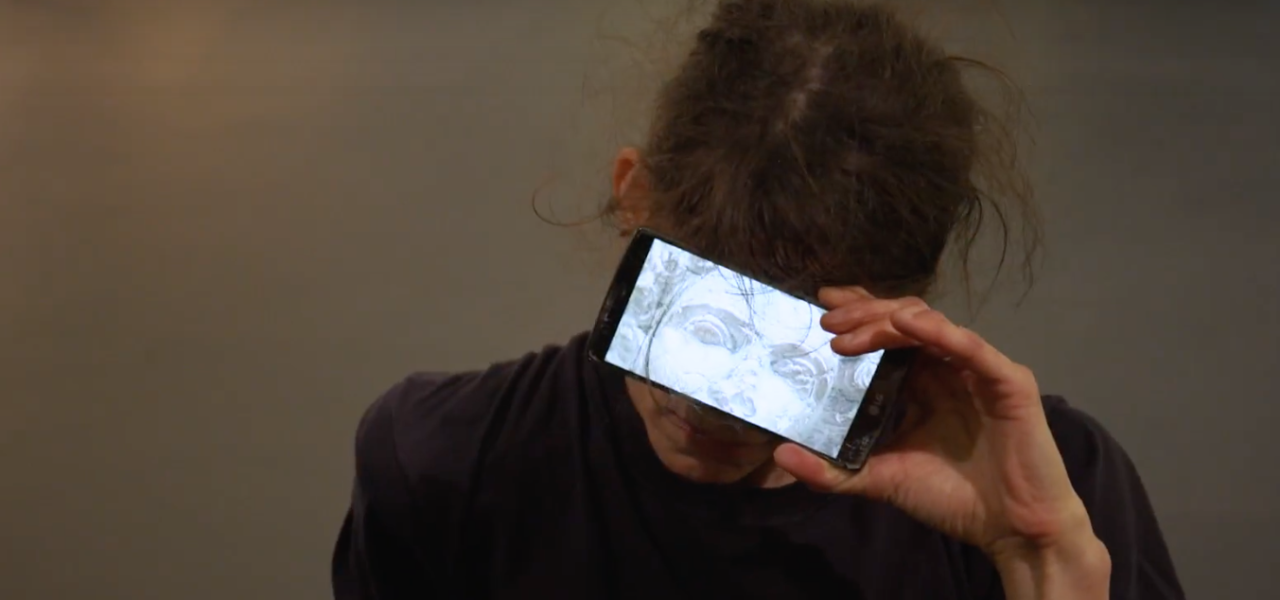 Choreographer Iris Erez made me pause at the Israeli Museum this month when she suggested that a room full of international visitors take selfies and place their phones on the ground, out of reach. Viewers peered down to find their reflections in a mosaic of black mirrors following Iris' 30-minute-long solo, Self Ritual, presented by Machol Shalem Dance House's Jerusalem International Dance Week, which hosts top curators and theater programmers from around the globe for five days of dance performances around the city.
Thoroughly impressed by the work, I asked Iris to discuss her artistic intentions and post-performance reflections with me.
In Self Ritual, (and in real life) Iris creates an elegantly warm atmosphere—she entered the gallery sporting a black t-shirt which literally displayed a heart on its sleeve; a black bag hung mysteriously on her back. Iris greeted viewers in several languages, especially significant in the international context; one man responded with an audible "Hi". Iris later admitted to me that this seemingly insignificant moment led her to immediately "feel very connected with the audience and trust the space." This trust would prove necessary as viewers were requested to join her on stage for handshakes.
Gentle handshakes morphed into desperate and amplifying grasps. In its most extreme form, guests who were invited to shake hands would witness Iris collapse into a motionless smear on the marble floor. Iris later recalled the prescribed, "thank you for coming," at a Jewish shiva as inspiration for this section.
And then Iris began to reveal what had been hiding inside her black backpack: digital devices cleverly emerged, confronting viewers in a gallery space full of ancient Roman relics. Iris leveraged the H-shaped gallery, running to out-of-sight art-displays, capturing a photo of an ancient bust with an iPad or iPhone, placing it over her own face, and executing a series of softly pounding gestures. At times, audience members were asked to swipe images across a screen covering her face. Iris was completely unaware of these outcomes and a tension developed, which placed communal responsibility in the hands of one user.
In Self Ritual, Iris described her desire to "bring life into dead figures and bring them close to people physically, mentally, spiritually." A starting point for her research of how to "make art touch people" began this past summer in The Makers, an outdoor work for 25 dancers, which investigates the ability to "resist our environment, surrender to it and change it."
The encounters of Self Ritual deal with both Iris' human touch and her facilitating physical proximity to digital devices. In conversation with Iris, she warns, "we are heading into an unnoticeable era–my kids don't always know how to distinguish between the real and the not real. And when you think about it, it all goes back to touch. With touch, you get into worlds. It's so primary."  'Touch' is still paramount in the digital world: swiping, tapping, clicking–eerily erotic actions. No wonder we see daily evidence of preference for a wired world over our disconnected one.
Iris truly touched me in this performance. She demonstrated a democratic and generous use of her devices, bringing the dead back to life and escorting them out of their cases, into the living space. And then she invited us to participate, dedicating our devices to some greater cause, to making a statement outside of ourselves.
Iris Erez presented Self Ritual on December 3, 2018 at the Israel Museum as part of Machol Shalem Dance House's Jerusalem International Dance Week. 
---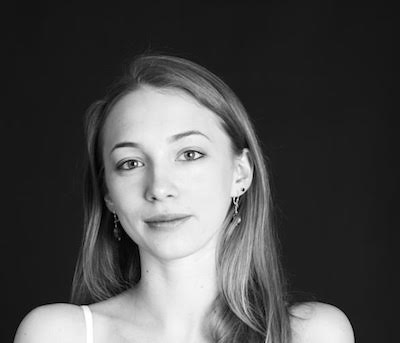 Ana Harmon is an arts advocate and dancer. Born and bred in Boston, MA, she trained for 12 years with Boston Ballet before joining Ballet Austin II in 2008. After completing MASA Dance Journey on Kibbutz Ga'aton in 2010, she joined Kamea Dance Company in Beer Sheva. She has attended workshops at  Nederlands Dans Theater, National Ballet of Canada, San Francisco Ballet, Houston Ballet, and Suzanne Farrell's Exploring Ballet. Ana received a BA in Liberal Arts from Tel Aviv University in 2016. From 2016-2018 she worked for Batsheva Dance Company's International Development department. She is currently pursuing a Gaga teacher certification course and working for Gaga International.